<< All News
Tuesday, March 17, 2020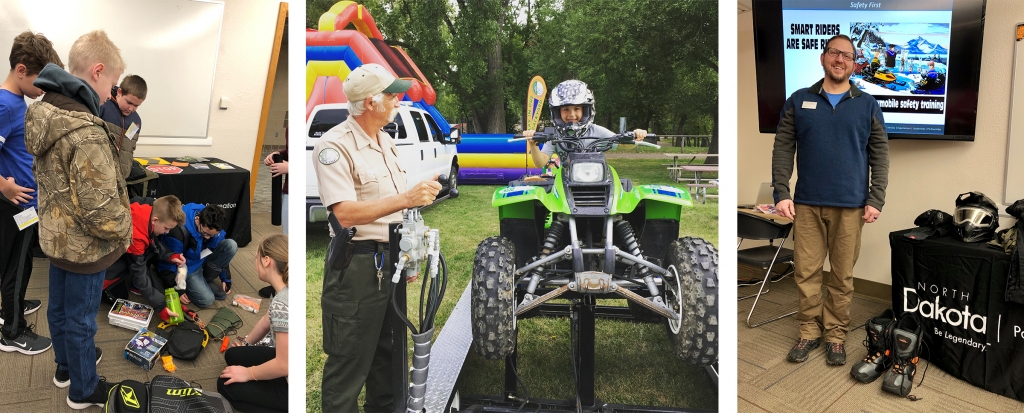 North Dakota Parks & Recreation Department is excited to announce our 2020 OHV Safety course presentations. Exact times and address locations will be published one week prior to course execution once the minimum student registration is achieved. This year we will conduct several hands-on safety courses for certification, including:
Kenmare, March 29th Bismarck, April 8th Lamour, April 18th
Crosby, April 19th Power's Lake, April 23rd Minot, April 29th Wahpeton, May 9th
Dickinson, May 9th Bowman, May 30th Cavalier, June 9th Devils Lake, July 15th
As a reminder, it is a requirement for your 11-15 without a state driver's license to receive an OHV/ATV safety certification in order to ride a Class 1, 2, or 3 OHV on public land. Class size will be limited to 16 and will not be conducted if less than 4 registered students.
Please visit our website, https://www.parkrec.nd.gov/business/recreation-programs/highway-vehicles-ohv/ohv-tracked-dirt-bike-safety, to register for a safety course, discover where to ride, and stay informed.
Already taken the course, check out some of our fantastic riding opportunities:
Pembina Gorge State Recreation Area: has over 15 miles of trails designed to accommodate non-motorized and motorized traffic, including the three classes of OHVs – dirt bikes, four-wheelers, and side-by-sides – which are 60 inches wide or less.
Roughrider OHV Trail: is located 30 miles south of Mandan on Highway 1806; it begins at the Fort Rice Campground, travels north for 16 miles on an old railroad bed, and ends at Little Heart Bottoms.
Turtle Mountain State Recreation Area: The hilly terrain and heavy woodland cover provide a unique landscape in North Dakota. This 10-mile trail is open to motorized vehicles like dirt bikes, all-terrain vehicles, and side-by-sides as well as non-motorized trail users and sportsmen. The OHV area trailhead, youth trail, and parking area is located about 6 mile NE of Bottineau and provides enough parking for trucks with large trailers.
Kimball Bottoms Recreations Area: Also known as, The Desert, this 400-acre play area is managed by the U.S. Army Corps of Engineers and is located 8 miles south of Bismarck, ND.
We look forward to seeing you on the trails! And remember, Ride North Dakota First!
<< All News