<< All Events
Start: Saturday, February 29, 2020 - 06:30 am
End: Saturday, February 29, 2020 - 09:30 am
Categories:
Fort Abraham Lincoln State Park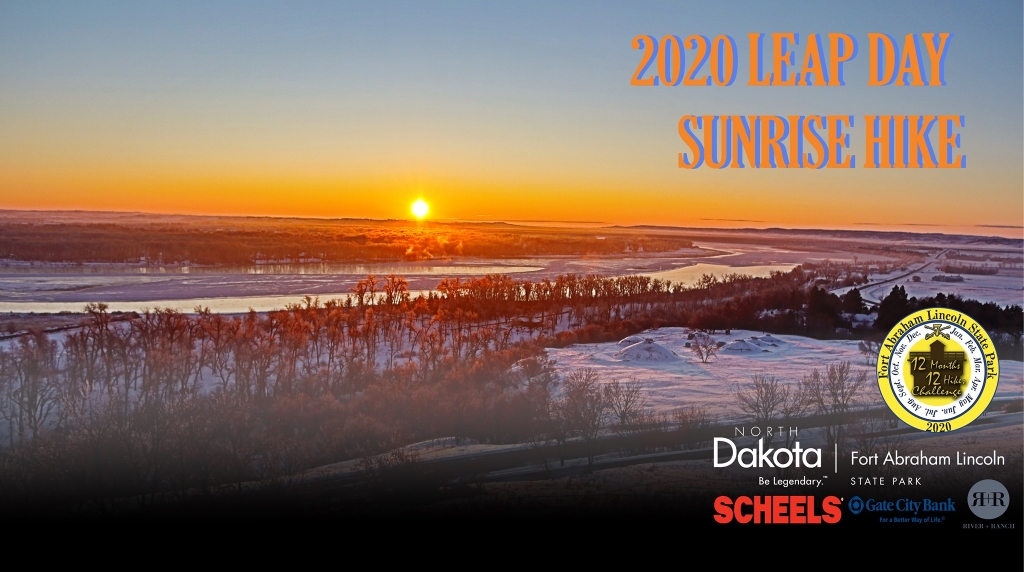 We are changing things up in February!
Introducing the all-new Sunrise Hike! Happening on February 29th, 2020 LEAP DAY!

Every four years we get that one extra day on the calendar. If you had one extra day what would you do? Life is short, and when you get an extra day why not start that day watching the sunrise! So Join the staff at Fort Abraham Lincoln State Park for the first bonus hike in the 2020 Hiking Challenge, the LEAP DAY SUNRISE HIKE!

The hike will start at 6:30 am at the Park Visitor Center, and we will hike to the top of the Infantry Post hill, for a Sunrise at 7:23 am that morning. (No promises on a clear sky). After the sunrise and of course that perfect selfie (FYI don't forget to bring a camera for this hike) we will hike back to Visitor Center for Coffee and Donuts.

The trail for the LEAP DAY HIKE will not be stroller friendly and will be semi-strenuous due to the trail snow cover. the hike will be about 1.5 to 2 miles in length, and hikers are encouraged to dress for the weather that morning. Winter winds can make the hike at the top of the hill pretty frigid.

***For those of you that are not early risers, we will still host a 1:00 pm Leap Day Bonus hike.***

The Leap Day Sunrise Hike is the first of four bonus hikes in the 2020 12 Months - 12 Hikes Challenge.

At the LEAP DAY HIKES, you can still get registered for the 2020 12 Months 12 Hikes challenge and start marking off those hikes count.

In 2020 make it a point to hike at Fort Abraham Lincoln State Park. It's always great outdoor fun in North Dakota State Parks.

Event is FREE with an ND State Parks Annual Pass, or $7 vehicle registration at the entrance to the park. Don't have an ND State Parks Annual Pass, you can make that purchase at the hike.
<< All Events