<< All Events
Start:
End:
Categories:
Fort Abraham Lincoln State Park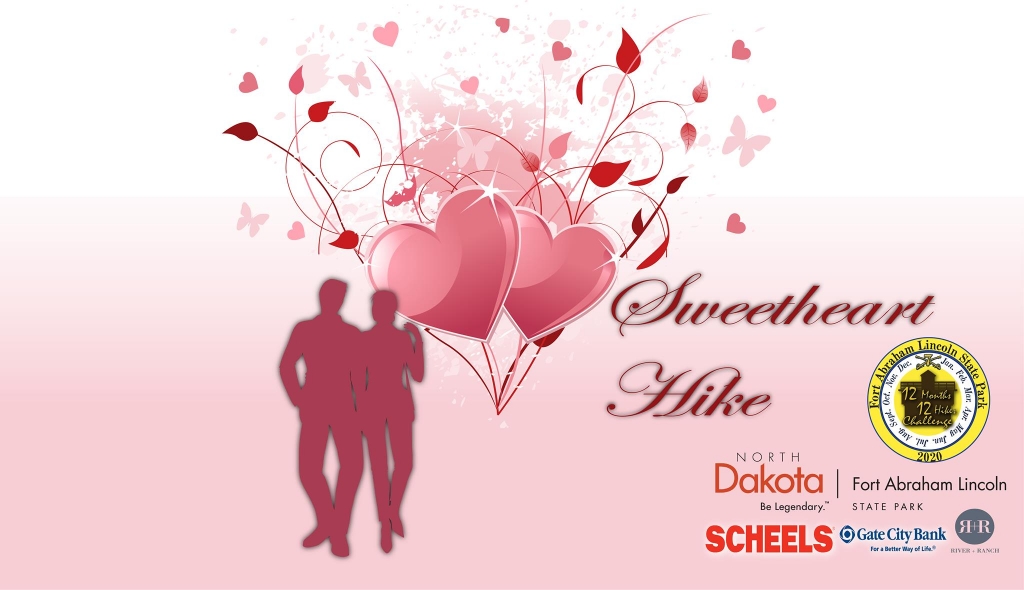 Bring your Valentine this #Valentines Season to Fort Abraham Lincoln State Park, because we have the perfect way to spend some quality time with that special someone or the whole family. Join us for the annual "Sweetheart Hike" on Sunday, Feb. 16th beginning at 1 p.m. The hike about 2 miles over the hills and through the snow, so wear those snow pants and boots and bring a sled to pull.

The "Sweetheart Hike" will start and conclude at the park's Commissary Store. A #loving photo moment will be held at the conclusion of the hike in front of the Custer House. Pictures will be made available online for you to download and share with your family and friends

Stop in the at the Commissary Store before or after the hike for shopping and warms drinks including our signature Ciders and Hot Chocolate or try any of our delicious espresso beverages. All drinks are buy one, get one 50% off to share with your Sweetheart!

The Sweetheart Hike is the second hike in the 2020 "12 Months - 12 HIkes" Challenge

Hikers are to dress appropriately for the weather. The hike is roughly two miles, moderately strenuous. The trail is not stroller friendly.

COME EARLY! You can still get registered for the 2020 12 Months 12 Hikes challenge and start marking off those hikes count. Registration will be from 11:30 am to 1:00 pm in the Great Room of the Commissary.

In 2020 make it a point to hike at Fort Abraham Lincoln State Park. It's always great outdoor fun in North Dakota State Parks.

Event is FREE with an ND State Parks Annual Pass, or $7 vehicle registration at the entrance to the park. Don't have an ND State Parks Annual Pass, you can make that purchase at the hike.
<< All Events