Medium
Located in the heart of the North Dakota badlands, Sully Creek State Park is just minutes away from the historic town of Medora and Theodore Roosevelt National Park. This park offers a quiet escape from these popular tourist destinations.
Sully Creek is the perfect spot for visitors seeking adventure. In the early spring, canoeing and kayaking the Little Missouri River is a popular activity. Traversing the 274-mile long Little Missouri River offers a unique perspective of the badlands from North Dakota's only State Scenic River. Horseback riding, hiking, and biking are also popular activities. The park gives visitors access to the 144-mile Maah Daah Hey Trail.
Medium
Medium
Campsite Types
10 Modern Campsites
(electricity & water*)
Price: $25 per night
6 Modern Equestrian Campsites
(electricity, water* and corral access at your campsite)
Price: $25 per night
12 Primitive Campsites
Price: $17 per night

2 Primitive Group Campsites
Price: $17 per night, per unit
10 Modern Group Equestrian Campsites
(electricity, water*, corral access and the ability to put multiple units on one site)
Price: $25 per night, per unit
*Water is available at several hydrants near the park entrance. Detailed information about each campsite is available on the reservation system.
Campground Map
Medium
Camping Information
- Campsites can be booked 95 days in advance from the date you wish to stay.
- Reservations can be made online or by calling the call center (800-807-4723).
- The full list of park fees can be found in the Fees & Facilities Brochure
- Check-in is at 4:00 pm on the first day of the reservation and checkout is at 3:00 pm on the last day of the reservation.
- Pets are welcome but must stay on a leash. Most parks have off-leash areas or dog parks for your four-legged friends.
- The cancellation policy and reservation information can be found here.
Medium
Sully Creek State Park is one of North Dakotas designated horse parks. This park is set up with 66 corrals and additional amenities to accommodate equestrian users.
Medium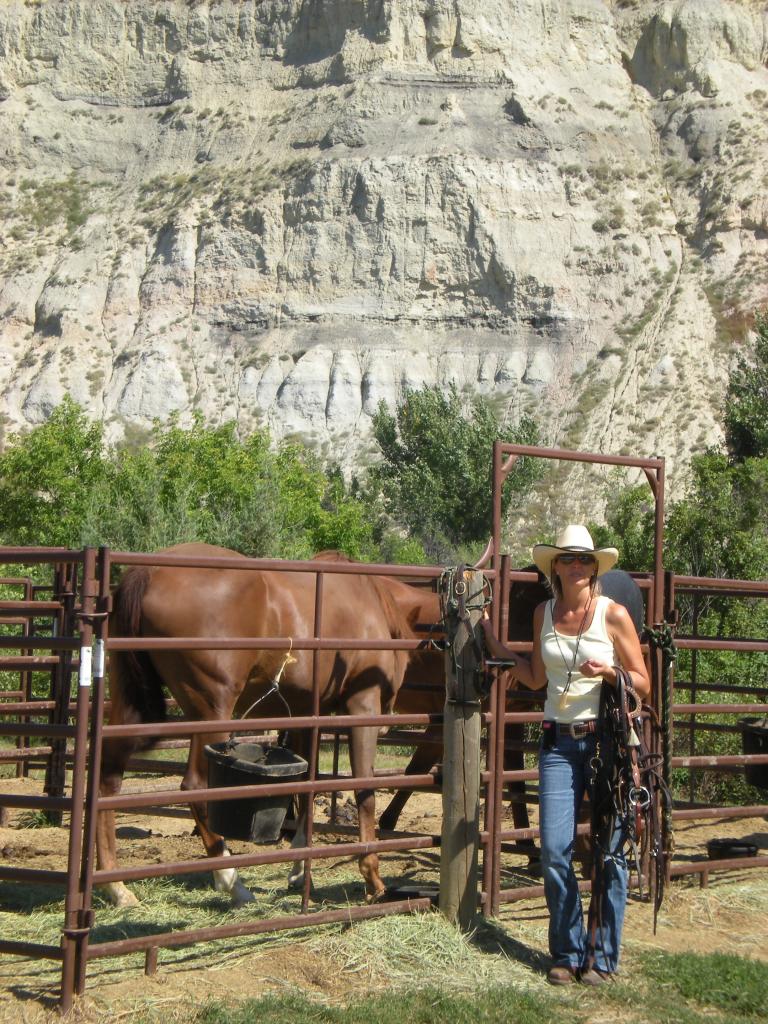 What you need to know
In addition to a park entrance fee, equestrian riders need to purchase a horse pass. Daily and annual options are available and are required per horse. Permits are available for purchase in the park or online here. The money generated from these fees goes towards maintaining horse trails.

Daily fee: $6/horse

Annual fee: $30/horse
Users are responsible for the upkeep of corrals and other impact areas. Please clean up hay and manure daily and before you leave, both in the park corrals and all use areas.
Ride only on trails designated for horse use. Ask park staff for information about park areas that are closed to horseback riding such as, campgrounds, playgrounds, or picnic areas.
Tie horses to corral posts or horse trailers, not to trees. The use of hobbles is prohibited.
Leave all gates as you found them.
All North Dakota State Park and Recreation Area maps are available free on Avenza maps, download the free App here.
Hay is available for purchase at the park.
Bringing horses into North Dakota: Information on health certificates and tests can be found on the North Dakota Department of Agriculture's website, https://www.nd.gov/ndda/, under Animal Import Permits.
Medium
Canoe and kayak access
Corrals
Dump station
Shower house
Round pen
Vault toilets
Water hydrants
Medium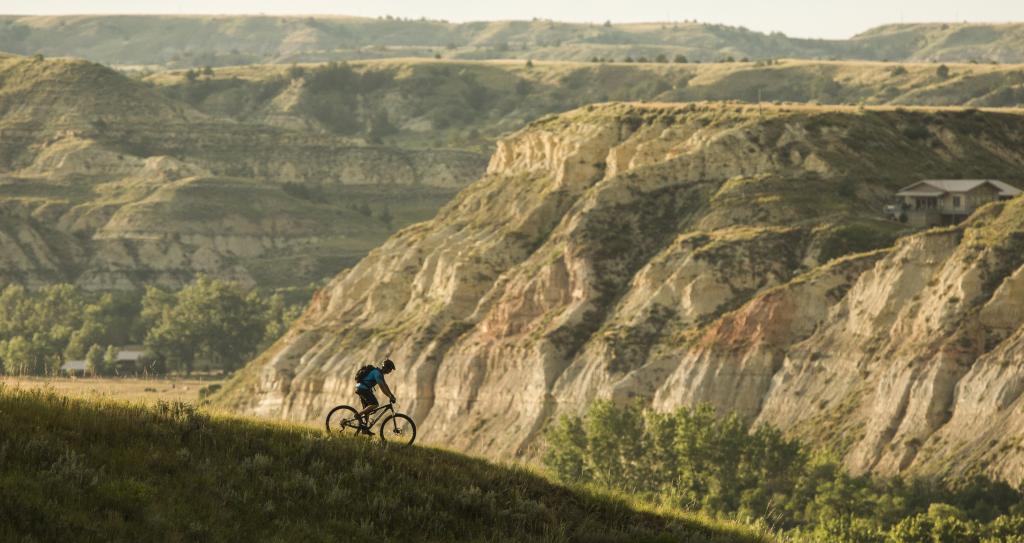 Trail Information
Bring your mountain bike, horse or hiking shoes to experience the Maah Daah Hey Trail, an epic 144-mile trail system containing eight unique segments, each with a distinct topography. Access the trail just northwest of the park entrance.

Heading north will take you to a crossing of the Little Missouri River and on terrain of varied elevations toward Theodore Roosevelt National Park. Heading south leads toward Bully Pulpit Golf Course and views of the badlands and Little Missouri National Grassland.
Medium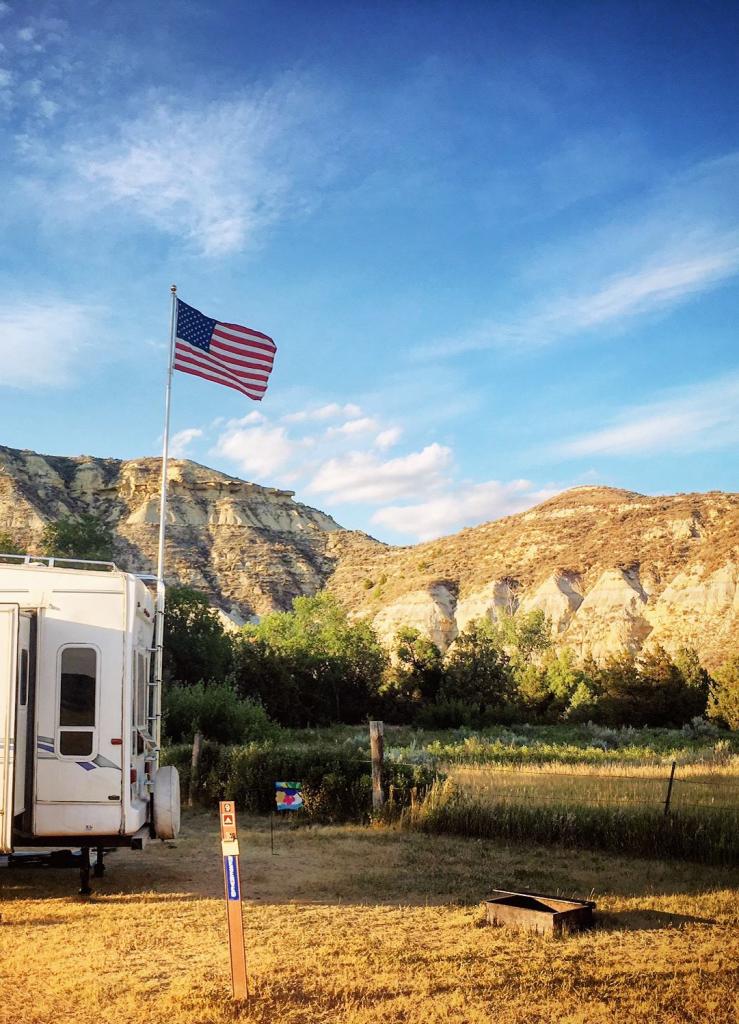 Medium
Trail Types